Tesco wins in 'chicken korma' war with Sainsbury's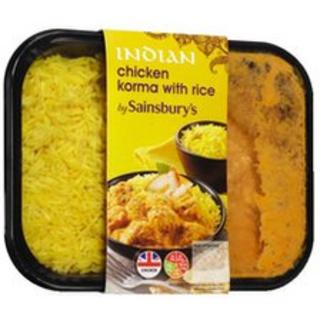 Tesco has won a battle with arch-rival Sainsbury's, over the validity of its Price Promise campaign.
The campaign promised customers that they would not lose out financially by shopping at Tesco.
Sainsbury's complained that some product comparisons were unfair, such as its chicken korma curry, and its value ham.
However the Advertising Standards Authority (ASA) has ruled that Tesco's campaign was not misleading.
Tesco launched its Price Promise campaign in March, telling its customers that they would not lose out on "big brands, own-label or fresh foods".
It promised to compare prices with equivalent items at Sainsbury's, Asda and Morrisons.
Where prices are cheaper at rival supermarkets, Tesco issues its customers with a voucher for the difference.
But Sainsbury's complained that not all products were exactly equivalent.
It said its own chicken korma curry was made with 100% British chicken, whereas Tesco's was not.
Similarly, its "basics" ham range was produced with British pork, whereas Tesco used meat from elsewhere in the EU.
"They are priced the same, but our pork is British, and Tesco's is sourced from somewhere else in the EU," said Sainsbury's commercial director, Mike Coupe.
"They are not the same product."
'Not misleading'
But Tesco argued to the ASA that most people were not primarily concerned about where the meat had been produced.
"For the majority of customers, the product's country of origin would only be a minor factor in a customer's decision-making," it told the ASA.
Sainsbury disagreed.
"If there's one big lesson that we should all have learned from the horsemeat scandal, it's that customers care deeply about where their food comes from," said Mr Coupe.
Sainsbury's was untainted by the scandal, although Tesco was affected.
The ASA said it noted Sainsbury's concerns, but it said the advertisement had clearly explained the basis of Tesco's price comparison.
It said the claim made in it was substantiated, and was not misleading.