Bank of England helped in sale of looted Nazi gold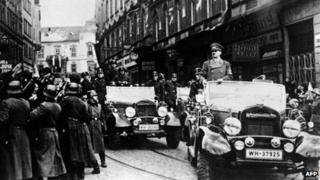 The Bank of England helped in the sale of gold stolen by Nazis after the 1939 invasion of Czechoslovakia.
A document from 1950 shows the gold bars were sold by the Bank on behalf of Germany's central Reichsbank.
The details have been made public following the first stage of the digitalisation of the bank's archive.
In 1939 the UK government said it had frozen all Czech assets being held in London at the time, but the sale of looted gold still went ahead.
Germany had annexed the Sudeten area of Czechoslovakia following the Munich Agreement, which was signed in September 1938, and then invaded the rest of the country in March 1939.
'Misunderstood'
In its 1950 report, the Bank of England said, "at the outbreak of war and for some time afterwards the Czech gold incident still rankled".
Officials continued: "Outside the Bank and the government the Bank's position has probably never been thoroughly appreciated and their action at the time was widely misunderstood."
The papers reveal that in March 1939 the Bank of International Settlements (BIS) asked the Bank of England to move gold, with a then-value of £5.6m, from a Czech National Bank account to a Reichsbank account that they also held.
Some £4m of the gold then went to banks in Belgium and Holland, with the rest sold in London.
The Bank of England then sold another tranche of looted gold for the Nazi regime in June 1939.
Pilots
The 1950 history reveals: "There was a further gold transaction on the 1st June 1939 when there were sales of gold (£440,000) and gold shipments to New York (£420,000) from the No.19 account of the BIS.
"This represented gold which had been shipped to London by the Reichsbank. This time, before acting, the Bank of England referred the matter to the chancellor, who said that he would like the opinion of the law officers of the Crown.
It adds: "On the BIS enquiring, however, what was causing delay and saying that inconvenience would be caused because of payments the next day, the Bank of England acted on the instructions referring to the law officers, who, however, subsequently upheld their action."
Other released documents show the Bank in a more favourable light, relating how during the war it sold saccharin and collections of postage stamps in exchange for foreign currency.
From 1942 that foreign cash was then given to RAF aircrews for them to use should they be shot down in occupied territories.