Aberdeen's central role in the North Sea oil industry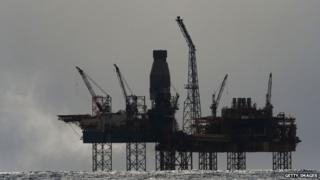 The world of oil is distant, difficult and far flung. In Kazakhstan a few years ago, I journeyed laboriously to the shrunken Aral Sea to look at a contentious new energy producing area.
One of the firms I visited was the local branch of the Wood Group, crammed with reinforced work boots and overalls and the chemicals and supplies you need to run an oil operation. As I remember it, a Scotsman was in charge.
It was a vivid example of how a once small shipping company from Aberdeen had grown into a mighty international force in the energy industry.
But I'd forgotten about the encounter until I went back to Aberdeen the other day for the first time for about 30 years, to meet the man who created the business, Sir Ian Wood. One man (one of the richest individuals in Scotland) who has lived through the whole story of North Sea oil and prospered mightily from it, along with his home town.
But as I went round the city interviewing people, I soon realised that this was not just a story of North Sea oil. Something very significant has happened to turn Aberdeen into a global centre of oil industry expertise. From what's developed in the Granite City there are important lessons for other places blessed (and cursed) with abundant natural resources.
And even as onshore fracking for shale gas steals the headlines in Britain and the USA, it is worth considering what has taken place in Aberdeen over the past 40 years.
When I was a young newspaperman on the Daily Record in Glasgow in the early 1970s, the great off-shore oil rush was beginning in the North Sea. It then seemed a pretty impossible dream, turning an island of coal into a place with abundant oil and gas supplies.
It seemed to us on the west coast of Scotland that the harbour city of Aberdeen was getting a bit big for its fishing boots, starting to believe in a new fantasy industry.
Transforming Aberdeen
Much to his mother's regrets, meanwhile, Ian Wood had joined the family firm. His grandfather had run a fishing fleet, his father added ship-repairing to it. At the end of the 1960s, bold energy explorers started prospecting in the North Sea.
By the early 1970s, big oil producers were descending on Aberdeen to haul into place the rigs and the platforms and the pipelines to turn offshore oil into onshore energy.
Being in shipping, the Wood group saw new potential customers out there at sea. Big oil companies brought in established and trusted international suppliers to do the complicated stuff. But locals firms such as Wood were useful when it came to shuttling supplies out to the rigs.
Then in 1972, Ian Wood took himself off to Houston, capital of the American oil industry. What he saw there changed (as he now says) his life. He came back from Texas inspired by a vision of how oil could transform Aberdeen.
And under his canny guidance, the Wood Group evolved into a major supplier of services first to the North Sea industry, and then much further afield. It now has 43,000 employees and operates in 50 countries. And it does far more than logistics.
The first oil flowed into Scotland in 1975, but conditions were always tough for the offshore oil and gas industry. (The hazards were remembered in Aberdeen in July when they marked the 25th anniversary of the dreadful Piper Alpha disaster in which 167 offshore workers died.)
Prospecting and then recovering North Sea oil was done in some of the most difficult conditions on earth, and they got more and more difficult as the inshore fields were developed and exploration pushed north into much deeper waters.
And gradually, out of this quest for ever more difficult oil, Aberdeen developed world class expertise in engineering in very difficult surroundings.
Early offshore exploration and production was done from platforms whose legs reached down to the sea bottom. But as the quest moved into deep waters, new techniques had to be developed - floating rigs which somehow kept the drill straight in the sea swell; production facilities sitting on the seabed which pumped the oil into pipelines which carried it ashore. And new recovery techniques to keep the oil flowing even when the easy pickings of early production have been achieved.
This is a branch of oil technology called subsea engineering. In the Westhill suburb of Aberdeen there are said to be more than 200 highly specialist subsea companies clustered together supplying their experience and knowledge and ingenuity not just to companies out there in the North Sea, but wherever in the world oil and gas is being looked for.
Exploration challenges
It is a vivid example of how creativity is spurred by encountering tribulations. In climate, depth, and harsh seas, North Sea oil was difficult from the start. But out of the hardship came responses, understanding, and new ideas.
And as the global oil industry turned from the era of onshore production to the very different subsea world, Aberdeen's engineers - including those at the Wood Group - found ways of tackling problems that would have been regarded as unresolvable when Scottish oil started being produced 38 years ago. They discovered that their experiences were very exportable indeed.
By its very nature, the offshore energy industry is not very visible. The huge economic and technical achievements of Britain's oil and gas businesses do not normally get very much attention.
But in Aberdeen you notice them in the constant clutter of helicopters to-ing and fro-ing out to sea, and the jets lined up at the city's airport ready to take engineers on charter flights across the globe.
And as you drive round Aberdeen, almost every roundabout is sponsored by a specialist oil or engineering company with an international reputation. Sir Ian Wood's vision in 1972 of how oil might transform Aberdeen has come to pass.
He retired recently as head of the group that he had steered so surely through endlessly choppy offshore waters, and is now devoting himself to philanthropy. But Sir Ian has just been asked to produce a report for the government recommending the best ways of ensuring that the North Sea continues to produce energy (in albeit reduced amounts) for decades to come.
After North Sea oil
The easy-to-get stuff has been produced, so keeping the oil and gas flowing will need much investment and more clever new techniques. More challenges for the subsea experts in Aberdeen.
So thanks to clever people such as Sir Ian Wood and the people who work with him, Aberdeen has achieved what every place where raw materials are discovered longs to do.
The city has taken the temporary boon of energy on its doorstep, and turned it into global knowledge and intellectual property which may make Aberdeen a centre of oil expertise long after the oil itself runs out.
Whatever happens to fracking.
In Business returns to BBC Radio 4 on Thursday, 1 August at 20:30 BST when Peter Day asks: "Whatever Happened to North Sea Oil?" The programme is repeated on Sunday, 4 August at 21:30 BST.