Small business lending increase at two-year high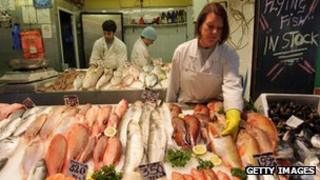 Lending to small businesses is showing signs of recovery, latest Bank of England figures have suggested.
Figures from the Bank show that lending to small businesses actually rose by £238m between May and June - the biggest monthly rise since the statistics were first produced in 2011.
The increase means that small and medium-sized businesses (SMEs) borrowed £170.4bn in June.
Lending to both small and large firms has been falling since June 2009.
"The rise fuels hopes that banks are now becoming more prepared to lend to small businesses," said Howard Archer, chief UK and European economist at IHS Global Insight.
The Bank of England cautioned against reading too much into one month's figures, which are not seasonally-adjusted, but it told the BBC that the rise was "obviously welcome".
Compared with a year earlier, lending to small and medium-sized businesses (SMEs) continued to decline, dropping 3.3%.
SMEs are businesses which have a turnover of less than £25m a year.
Lending to larger companies continued to fall on both a monthly and an annual basis.
In total, UK businesses are borrowing 3.7% less than a year ago, and 1.3% less than a month ago.
Howard Archer said the government's Funding for Lending Scheme (FLS) may now be helping small businesses more than previously.
"The Funding for Lending Scheme could be starting to have more of a positive impact," he said.
The scheme was extended in April, and at the same time incentives for lending to SMEs were improved.
Under FLS, banks can borrow money cheaply from the Bank of England, providing they lend it on to businesses and individuals.