Apple faces new China worker abuse claims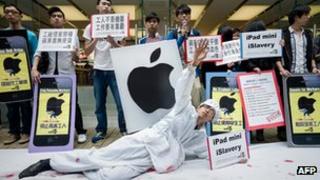 Technology giant Apple is facing fresh allegations of worker rights violations at Chinese factories of one of its suppliers, the Pegatron Group.
China Labor Watch, has alleged that three factories of Pegatron violate a "great number of international and Chinese laws and standards".
These include underage labour, contract violations and excessive working hours.
Both Apple and Pegatron said they would investigate the allegations immediately.
"Apple is committed to providing safe and fair working conditions throughout our supply chain," the firm said in a statement.
Pegatron's chief executive, Jason Cheng, said in a statement that the firm took the allegations "very seriously".
"We will investigate them fully and take immediate actions to correct any violations to Chinese labour laws and our own code of conduct.
"Pegatron sets very high standards for ourselves with our own dedicated team that audits and investigates issues," the firm added.
'Worse than Foxconn'
Apple, one of the world's biggest firms, has had to deal with similar claims in the past. when one of its biggest suppliers, Foxconn, was accused of violating worker rights.
Conditions at Foxconn factories came under even greater scrutiny after a spate of worker suicides at some plants.
On Monday, Li Qiang, executive director of China Labor Watch, claimed that "our investigations have shown that labour conditions at Pegatron factories are even worse than those at Foxconn factories".
The campaign group said that it had found that average weekly working hours in the three factories investigated by it were approximately 66 hours, 67 hours, and 69 hours, respectively.
It alleged that in "Pegatron Shanghai, our investigation uncovered that workers were forced to sign forms indicating that their overtime hours were less than the actual levels".
"Conditions at these factories are so poor that most workers refuse to continue working for long."
It claimed that 30 of the 110 new recruits at one of the factories had left within a period of two weeks.
However, Apple disputed those claims, saying that it had closely tracked working hours at all of these facilities.
"Our most recent survey in June found that Pegatron employees making Apple products worked 46 hours per week on average," it said.
Special inspections
Other violations claimed by the campaign group include insufficient wages, poor working conditions, poor living conditions, difficulty in taking leave, abuse by management and environmental pollution.
Apple said that it had been in close contact with China Labor Watch for several months "investigating issues they've raised and sharing our findings".
It added that some of the issues brought out in the report were "new to us".
It said that its audit teams would return to the three factories this week for a series of special inspections.
"If our audits find that workers have been underpaid or denied compensation for any time they've worked, we will require that Pegatron reimburse them in full.
"We will investigate these new claims thoroughly, ensure that corrective actions are taken where needed and report any violations of our code of conduct," Apple said.