Japan consumer prices rise for first time in 14 months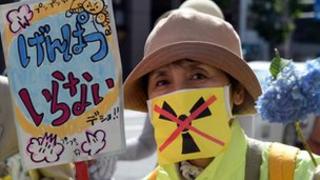 Japanese consumer prices rose for the first time in more than a year in June, a sign that policies aimed at ending deflation could be yielding results.
Data showed that consumer prices, excluding food, rose by 0.4% - the biggest increase for five years.
However, the rise was mainly due to higher energy bills rather than increased domestic demand.
Prime Minister Shinzo Abe has said that he will end more than a decade of falling prices.
Short blip?
Japan has suffered a shortage of energy since the closing of almost all the country's nuclear reactors, which followed the earthquake and tsunami in 2011. As a result, it has been importing much of the energy it needs.
Since becoming prime minister late last year, Mr Abe has looked to decrease the value of the yen with government spending and ultra-loose monetary policy, in order to help boost exporters' earnings.
However, the weaker yen means it is more costly to import fuel.
Analysts said it was too early to declare the end of deflation.
"If you look at a narrower basket of goods without energy, the clear rising trend isn't there yet and we can't say with great confidence that Japan is clearly on its way out of deflation," said Koichi Fujishiro, from Dai-ichi Life Research Institute in Tokyo.
"Only when wages start going up will we be able to say that it's a more sustainable and meaningful trend. So far, it can still end on a short blip up."
The Bank of Japan has set an inflation target of 2%.