BSkyB profits rise as new services lure customers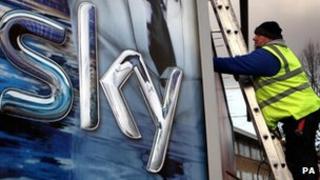 Annual profits at BSkyB have risen, with the satellite broadcaster saying that new services were "resonating strongly" with its customers.
It reported pre-tax profits of £1.26bn for the 12 months to 30 June, up 6% on the previous year.
The company gained 547,000 new customers over the year to bring its total customer base to 11.2 million.
BSkyB also said extra services such as On Demand and Sky Go had continued to drive increased viewing.
Revenues rose by 7% to £7.2bn, and operating profits increased by 9% to £1.33bn.
The results come as BSkyB faces a challenge to its dominance of the UK's sports pay-TV market.
BT won a three-year deal to show 38 Premier League games a season, beginning this year, and is now offering free Premier League football coverage to its broadband customers.
'Exceptional business'
Chief executive Jeremy Darroch said it was "another very good year of growth", but said conditions would "remain challenging" over the next 12 months.
The number of Sky households with fully-connected HD set-top boxes more than doubled over the past year, from 995,000 to 2.7 million.
The number of Sky Go unique users rose from 2.74 million to 3.26 million.
Media analyst Clare Enders, chief executive of Enders Analysis, told the BBC's Today programme that the "very significant increase" in Sky Go customers showed that users were "enjoying and expanding their use of Sky products".
"It's an exceptional business in a market which is unique in a European context," she added.
Richard Hunter, head of equities at Hargreaves Lansdown Stockbrokers, said the results were better than the early share price reaction would suggest. By mid-morning, BSkyB shares were down 2.4% on the day.
"However, the spectre of BT's current strength is looming large and despite the fact that Sky has clearly come out fighting, investors are currently favouring BT in what is becoming an increasingly compact space," he added.