GSK appoints new boss in China amid bribery scandal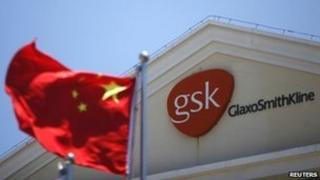 The drugs giant GlaxoSmithKline has appointed a new head of operations in China in the wake of this week's launch of a bribery inquiry into its business there.
Herve Gisserot will take over as general manager in the country from Mark Reilly.
GSK has been accused by Chinese authorities of directing up to £320m through travel agencies to facilitate bribes to doctors and officials.
Mr Reilly will stay with the company.
He will continue to lead the company's response to the Chinese government's bribery investigation.
Earlier this week, GlaxoSmithKline (GSK) said it expected "some impact" on its financial performance from the bribery investigation in China, although it said it was "too early to quantify" the extent of the scandal.
On Monday, GSK said senior executives in its China office appeared to have broken the law.
Several GSK employees have been detained over the last few weeks.
GSK's chief executive, Sir Andrew Witty, said that it appeared the investigation was centred on a number of senior executives in China who were allegedly operating outside the company's systems and processes.
He described the situation as "shameful" and "deeply disappointing".