France's knicker industry: In a twist and losing jobs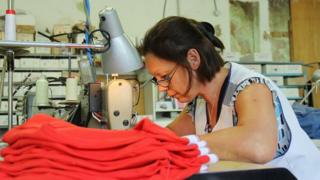 Think French underwear, think French knickers.
No, think again.
Think men's pants, patriotic pants with a white waistband embossed with the colours of the French flag and selling for around £32 ($49; 37 euros) a pair.
I must admit I was mainly thinking about the price as I watched the Le Slip Francais label being machine-stitched into a large pair of jersey cotton boxers, but I'm sure the company director, Guillaume Gibault, was thinking that Gallic confidence was at last being restored to where it matters most.
"It was a bet," he laughs, "a bet to show it's still possible to make things in France."
"Le Slip Francais is just like a little Frenchman saying, 'Yeah, we can still do it!'" he added.
At just 28, business school graduate Gibault is going where many French entrepreneurs have gone before - but where few are tempted to go now.
At the start of the 1980s more than a million people were employed in France's textile industry - today only a tenth of that number remain.
Tangled in high taxes and wedged by rigid labour codes, France's knickers are in a twist.
Last year the leading luxury underwear firm Lejaby prompted national fury when it relocated to Tunisia in a bid to bring down production and labour costs.
When a French business pays a worker, it must pay almost the same amount again in social charges, national insurance and so on.
Unable to compete with cheaper products coming from European neighbours and from Asia, many smaller textile firms have simply folded.
The financial burden of the famed social model has made it practically impossible for manufacturers to compete globally.
'Too risky'
Gibault's gamble is that the home-grown hallmark will prompt his customers into nostalgic and patriotic pant wearing.
But while the Made in France label may reassure those sporting the briefs that they are wearing quality, it has also guaranteed Gibault a host of complications.
"I started my company in 2011. If it wasn't for the huge social charges and the taxes imposed on my business, I think I would have expanded much faster and much further," he explained.
"But it's just too risky to take on more staff, so I just take interns who are inexperienced and who can't really drive the business forward."
The 3,200 pages of France's Code du Travail dictate everything from job classifications to the ability to fire workers.
Few employers are willing to risk hiring staff during a boom in demand because if orders drop, it is extremely complicated - and very expensive - to let workers go.
Pants for Prince George
Much of the rulebook was written over a century ago when Frenchmen were presumably still in woollen long johns.
"Innovation is the key," Gibault assured me as he jigged around with nervous excitement.
"I know we have a very poor business climate in France but we just have to keep coming up with new ideas.
"I'm going to Tokyo next week to try to sell the French touch to the Japanese."
During the last race for the presidency, Gibault managed to market his pants by doctoring all the candidate's election posters.
Francois Hollande's mantra "the time for change is now," became "the time to change your pants is now", while Nicolas Sarkozy's maxim "everything is possible" became "everything is possible in pants".
He is too cheeky to miss a new advertising trick.
At the end of my visit, which coincided with the news of the birth of His Royal Highness Prince George, he presented me with a mini pair of navy blue briefs in the hope that I could slip them into the nursery at Kensington Palace.
The International Monetary Fund (IMF) and the European Commission have warned that the high tax burdens imposed on France's businesses and the over-regulation of the labour code are crippling innovation and preventing job creation.
They are also leaving French businesses with the lowest profit margins in the European Union.
The French president - and other members of his cabinet - continue to appear defiantly on French television to boast that France is still a "grande nation" and will show the EU who wears the pants around here.
But a big nation needs big pants and at the moment France is being squeezed into a model it has long outgrown.
New elastic needed
"Come back and see me in two years," Gibault smiled ruefully.
"I hope I'll still be here - but I can't really guarantee it."
I watched him with his co-workers, enthusiastically poring over new designs for the next generation of pants.
If the French government doesn't urgently put new elastic into its economy, Le Slip Francais could soon find itself sagging and slipping down to the knees.