Facebook shares soar 18% on strong mobile ad earnings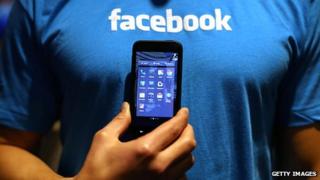 Shares in Facebook have leapt 18% as it beats earnings expectations with stronger than expected mobile ad sales.
The company reported profits of $333m (£217m) in the second quarter.
"The work we've done to make mobile the best Facebook experience is showing good results and provides us with a solid foundation for the future," said founder Mark Zuckerberg in a statement.
Facebook is the world's largest social networking company.
According to chief financial officer David Ebersman, 20 billion minutes a day were spent on Facebook in June.
"This quarter marks the end of our first year as a public company and I think we've created a good foundation for the future," said Mr Zuckerberg on a call to discuss the earnings.
The company's share price is still down more than 16.7% from its stock market debut price of $38.
Mobile boost
Facebook saw $655.6m in revenue from mobile ads in the three months from April to June - more than 41% of the total $1.6bn it made from advertising overall, compared with 30% for the same period last year. The number of mobile users expanded 51% to 819 million.
Clark Fredricksen of research firm eMarketer told the BBC that the results were "incredibly impressive - they've exceeded expectations."
eMarketer estimates that Facebook will take in more than $2bn in mobile advertising this year and increase its share of the digital ad market to 5.04% - up from 4.11% in 2012.
"I'd say that Facebook is in a unique position with the ad market right now in that it is very far ahead of any other major ad platform in mobile display advertising," said Mr Fredricksen.
The company has focused on perfecting its ad sales programmes. Last month, it announced changes to its Ads Manager which it said would provide advertisers with better data.
In April, Facebook won back General Motors almost a year after the car company pulled advertising from the site.
Video boom
Mr Zuckerberg also discussed one of the company's most recent innovations: the introduction of video to Instagram, the photo sharing platform that Facebook bought in April 2012 for $1bn.
The video feature was introduced to compete with Twitter's short video sharing service, Vine.
"Adding video fits really naturally with the Instagram mission," said Mr Zuckerberg.
On the call, analysts asked a question that many have wondered: When will Instagram finally begin to generate any sort of revenue for the company?
Mr Zuckerberg, while emphasising that it's "been clear that we're building Instagram to be a business", simply said that Facebook was focused on building Instagram's "imprint", or user base.
He also alluded to two new products that have yet to gain traction with Facebook users: Home, the company's mobile phone software, and Graph Search.
Mr Zuckerberg said he thought these products "will take longer to develop."