Boeing profits rise despite 787 woes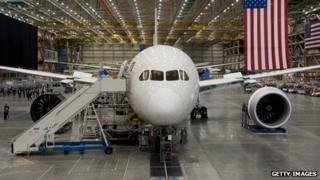 US plane-maker Boeing has reported better-than-expected results for the second quarter, despite recent problems with its 787 Dreamliner model.
The US firm made a net profit of $1.1bn (£717m) in the three months to June, up 13% on the same period last year.
It delivered a total of 169 planes to airlines in the three-month period.
They included 16 Dreamliners, which Boeing began shipping again in May after they were grounded in January amid safety concerns.
Boeing said it expects to deliver at least 60 of the 787s this year, despite the battery problems that affected the aircraft.
More recently, a fire on board a 787 operated by Ethiopian Airlines closed Heathrow Airport.
Boeing dominates the global aircraft market, alongside its European rival Airbus.
The expansion of airlines in Asia, the Middle East and Latin America has helped boost orders at both companies in recent years.
Boeing's shares rose more than 1% in the first few minutes of trading in New York.