Dell delays vote over proposed buyout for second time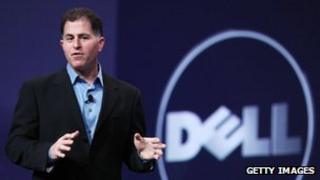 Dell has postponed a shareholder vote over a buyout offer from the company's founder for a second time.
The move follows an improved offer for the firm from Michael Dell and private equity company Silver Lake, who have raised their bid to more than $24.5bn.
Mr Dell has also proposed a change in the way shareholder votes are counted.
Under the proposal, shareholders who abstain from voting would not be counted as against the deal - a big boost for Mr Dell's bid.
"There is simply no rational basis for shares that are not voted to count as votes against the merger agreement for purposes of the unaffiliated stockholder vote," the bidders said in a letter to shareholders.
The proposal will be considered by a special committee of independent Dell directors.
Resistance
Without their approval Mr Dell says that he will withdraw the raised offer.
Mr Dell wants to buy back the company he founded in 1984 while still at college.
He wants to reorganise the business which has been moving away from making computers and into providing technology services.
But shareholders have been resisting, led by billionaire Carl Icahn, who has argued that Mr Dell has undervalued the company.
Dell's board of directors has postponed the shareholder vote until 2 August to give parties time to consider the new proposals.