China manufacturing activity slows to 11-month low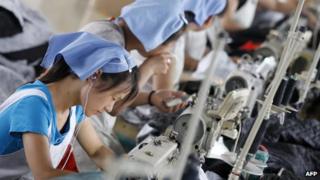 China's manufacturing activity fell to an 11-month low in July, hurt by a decline in new orders, according to a preliminary survey by HSBC.
The bank's Purchasing Managers' Index (PMI) fell to 47.7 from 48.2 in June.
The PMI is a key indicator of activity in the sector and a reading below 50 shows contraction. This is the third month in a row that the HSBC reading has been below that level.
The data comes amid fears of a slowdown in China's overall economy.
Data released earlier this month showed that China's economic growth slowed in the April to June period, the second straight quarter of weaker expansion.
The world's second biggest economy grew by 7.5% compared to the previous year, down from 7.7% in the January to March period.
Further slowdown?
China's manufacturing and export sectors have been key drivers of its economic growth over the past decades.
However, demand for China's exports has slowed recently, especially from key markets such as the US and Europe as they grapple with slowing economic growth.
At the same time, policymakers have found it tough to boost domestic consumption enough to offset the decline in foreign sales.
That has led to concerns that a slowing demand from key markets coupled with a subdued domestic consumption may hurt growth in China's manufacturing sector and impact China's overall economic growth.
Hongbin Qu, chief economist China at HSBC that weaker new orders played a key role in a slowdown in manufacturing activity in July.
Zhiwei Zhang, an economist with Nomura, added: "The fall in the index is in line with our view of growth momentum fading further in the coming quarters".
Mr Zhang said that he expects China's growth to slow to an annual rate of 7.4% in the current quarter and 7.2% in the final quarter of the year.