Senate probes banks' aluminium warehouse role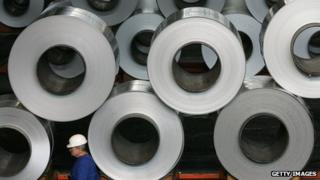 A US Senate committee heard evidence on the controversial role of big banks in the aluminium industry.
Buyers like beer giant MillerCoors testified that banks' control of metal warehouses has increased their costs by as much as $3bn (£1.95bn) last year.
The Senate Banking Committee is investigating whether banks should be allowed to control infrastructure used in the commodities and energy sectors.
This includes warehouses used to store metals like aluminium.
Big aluminium users in the US say banks are using their ownership of warehouses to keep prices artificially high.
The hearing comes amid renewed scrutiny of the role of banks in the commodities markets.
Last week, the US Federal Reserve announced it would look again at rules that allow deposit-taking banks to get involved in commodities.
Banks such as Goldman Sachs, JP Morgan Chase and Morgan Stanley all have business interests that include storage of commodities such as metals and oil, as well as in trading.
But businesses that use a lot of aluminium say banks are storing the metal at their warehouses and intentionally passing it on to customers at the slowest rate possible.
System 'does not work'
"Just imagine a warehouse with a big garage door marked 'in' and the small front door of your house marked 'out'. A lot more metal goes into the warehouse than comes out," Timothy Weiner, global risk manager in commodities and metals at MillerCoors, said in written evidence submitted before the hearing.
This, he said, allowed banks to claim a rental income for storing the aluminium, as well as creating bottlenecks in supply that keep prices artificially high.
"What's happening is that the aluminium we are purchasing is being held up in warehouses controlled and owned by US bank holding companies... who are members of the LME [London Metal Exchange] and set the rules for their own warehouses.
"These bank holding companies are slowing the load-out of physical aluminium from these warehouses to ensure that they receive increased rent for an extended period of time.
"Aluminium users like MillerCoors are being forced to wait in some cases over 18 months to take physical delivery due to the LME warehouse practices, or pay the high physical premium to get aluminium today."
"The current system does not work," Mr Weiner concluded.
The LME has opened a consultation into plans to force warehouses to increase the amount of metal they deliver if they have waiting times of more than 100 days.
Although the banks were not present at the hearing, while it was happening Goldman Sachs issued a statement denying that it deliberately caused aluminium shortages to increase prices.
"Recent news reports have inaccurately accused Metro of deliberately creating aluminium shortages and incorrectly asserted that Metro moves aluminium from one warehouse to another in order to earn more rent fees," the bank said in a statement on its website.