Tax credit claimants must renew, says HMRC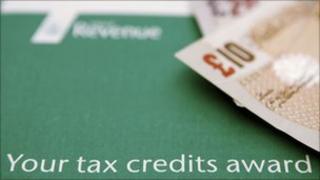 Tax credit claimants are being reminded by tax officials that an annual deadline is approaching for them to renew their claim.
Claimants have until 31 July to do so, otherwise they face losing the payments, HM Revenue and Customs (HMRC) has said.
Tax credit renewal packs have been sent to 5.8 million people since April.
Claimants must inform HMRC of any changes to their circumstances, such as working hours, childcare costs or pay.
Tax credits are aimed at helping low-income families with costs such as childcare.
All those whose circumstances have not changed will see their claim renewed automatically.
However, the authorities must be told of changes including whether claimants have started living with a partner or whether children have moved out.
"We are asking claimants to renew immediately. The sooner they do, the sooner we can check their payments and avoid paying too little, or too much money, which they then have to pay back," said Nick Lodge, director general of benefits and credits at HMRC.
Claimants can renew by calling the Tax Credits helpline on 0345 300 3900, or post their renewal.