Audit market competition plans unveiled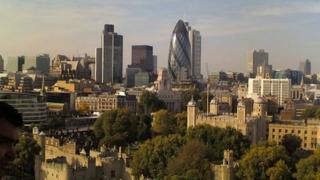 Major UK-listed companies must allow accountancy firms to bid for their audit work every five years, the Competition Commission has proposed.
It said that putting the work out to tender regularly would help to break up the dominance of the big four accountancy firms.
The commission stopped short of forcing companies to change auditors.
KPMG, Deloitte, PwC and Ernst & Young audit 90% of the UK's largest stock market-listed companies.
The regulator is concerned that they are too dominant and do not always meet shareholders' needs.
"More frequent tendering will ensure that companies make regular and well informed assessments of whether their incumbent auditor is competitive and will open up more opportunities for other firms to compete," said Laura Carstensen, chairman of the Audit Mark Investigation Group.
"A more dynamic, contestable market will reduce the dangers that come with overfamiliarity and long, unchallenged tenures," she added.
"Whilst there are costs in going out to tender, we think that they are outweighed by the benefits of a more competitive market in which shareholders can have increased trust."
The report is part of a continuing investigation into the audit market. The plans will be put out to public consultation with final recommendations issued later in the year.
Boosting competition
The industry was heavily criticised during the financial crisis for not doing enough to warn about company balance sheets and not scrutinising banks' books in enough detail.
"We gave careful consideration to other measures, including mandatory switching, but we think that the measures that we have provisionally chosen will be the most effective and proportionate way to address the problems we have found," said Ms Carstensen.
"We do not see a competition problem with audit firms retaining business if they do a good job - but they will have to demonstrate this on a regular basis."
The Competition Commission proposed that in exceptional circumstances, the companies listed on the FTSE 350 index could put audit work out to tender every seven years. Banks will be banned from inserting clauses in loans to companies that insist the auditing is done by one of the big four.
Ms Carstensen told BBC Radio 4's Today programme that there was evidence to show that when companies put their audit work out to tender, competition was fierce. She said that the proposed remedies would also prevent auditors from catering too much to management instead of shareholders.
The watchdog also wants the powers of the Financial Reporting Committee, the industry regulator, boosted by requiring it to review every audit engagement at the top 350 companies roughly every five years.
In addition, shareholders will have to vote on whether a company's annual reports contains sufficient information.
There would be a transitional period of five years for these measures to come into effect.
'Box-ticking exercise'
The BBC's business editor, Robert Peston, suggested that the cost of bidding for new contracts could be so prohibitive, that smaller firms might not be able to enter the market, and so, ironically, "these reforms could help the Big Four firms capture an even bigger share of the market".
Tony Cates, UK head of audit at KPMG, said: "Five year audit tendering will feel relentless to many companies, audit committees and investors who may only see audit quality damaged rather improved, with the possible end result that the process of tendering becomes an empty box-ticking exercise, rather than a more meaningful, engaged exercise on a 10 year basis."
The commission estimates that the cost to the industry of these reforms will be less than £30m a year once it is up and running, but KPMG argues it will be "far higher" than that.
PwC said the proposed reforms would be a "significant change" and that it would be "critical to get the transition right in order to manage the cost for businesses and potential market disruption".
Ernst & Young said: "Competition between audit firms is healthy and robust and the evidence obtained by the CC supports this... [Tendering every five years] is not in the public interest and will likely only serve to increase the financial burden on companies at a time of ongoing economic uncertainty."
EU plans
One of the accounting firms outside the Big Four, BDO, welcomed the report, saying that the proposed remedies would accelerate change in the market, although not overnight.
"The rejection of mandatory firm rotation will cause some surprise, but it's our belief that the frequency of mandatory retendering which the Commission proposes is such that rotation would be a superfluous remedy," said James Roberts, senior audit partner at BDO.
"There are more than four companies that deliver quality, large-scale audits. We intend to actively pursue opportunities that mandatory retendering opens up," he added.
He said some businesses - such as the big banks and the oil industry - would indeed be too large and too complex for smaller companies, but he said that there still needed to be more competition in other areas, for example retail and real estate.
The Financial Reporting Council said it was pleased that the commission had removed the requirement for mandatory auditor rotation. However, it said it had "a number of concerns over its other proposed measures and the related costs".
"We have previously urged the commission to respect the 10 year audit tendering cycle introduced to the Corporate Governance Code in 2012 and to give that timeframe the opportunity to prove itself," the regulator said in a statement, adding that the proposals needed further cost benefit analysis.
The European Union is also investigating the industry, and is proposing mandatory switching of auditors or more curbs on their advisory work.