Optical Express saved by founder David Moulsdale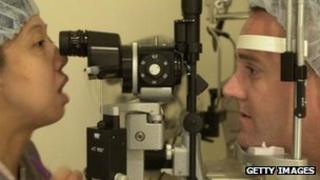 Laser eye surgery firm Optical Express has been saved from collapse by its founder, preventing the loss of 1,600 jobs in the UK and Ireland.
David Moulsdale has bought all the debt that the firm owes to the Royal Bank of Scotland and injected more money into the High Street chain.
The bank had refused to lend Optical Express any more money.
The Glasgow-based firm said it was now in a "highly secure position for continued growth".
The intervention by chairman Mr Moulsdale, who founded the firm in 1991, has saved Optical Express from being another High Street retail casualty, following the high-profile deaths of Comet, Jessops, Clinton Cards and others in recent years.
Optical Express - which has about 93 stores and 54 consultation centres - owed more than £30m to RBS and asked for a further loan in order to pay staff, according to the Sunday Times.
The largely state-owned bank refused and threatened to seize the firm and sell it to recoup its debts.
"David has agreed to acquire the entire debt owed to RBS by Optical Express and will inject significant working capital into the group, positioning it in a highly secure position for continued growth," a spokesman for the company said.
"We anticipate completing the transaction by Monday morning, however it's business as usual in all of our stores and clinics as we work through the final documentation."
As well as laser eye surgery, Optical Express offers other healthcare services including dentistry and cosmetic surgery. It also operates in the US and the Netherlands.