BP denied request to suspend Gulf spill payments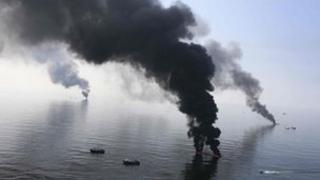 A US judge has rejected BP's request to suspend all payments related to the Gulf Coast oil spill.
The oil firm had argued that the claims should be halted while allegations of misconduct into the payouts were investigated.
Judge Carl Barbier said there was no evidence that the "mass of claims" was not being properly assessed.
BP says there is a risk that hundreds of millions of dollars in claims payments could be fraudulent.
"BP has not produced any evidence that would warrant the court taking the drastic step of shutting down the entire claims programme," said Mr Barbier, although he admitted that he was troubled by the the allegations.
A former FBI director, Louis Freeh, has been appointed to investigate a lawyer who helped administer the multi-billion-dollar settlement programme. BP claims he has been referring claims to a particular law firm in exchange for a share of the subsequent payout.
BP put aside $7.8bn (£5.2bn) when it agreed to pay compensation in 2012, but the company has become increasingly concerned that the final figure will be much higher because of false claims.