JP Morgan appointed by UKFI to advise on Lloyds and RBS share sale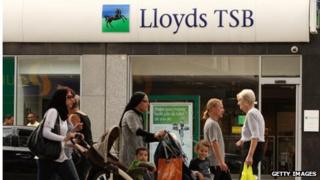 The body set up to manage the taxpayers' stake in Lloyds and RBS has appointed a US bank to advise it on a possible sale of its shares.
UK Financial Investments (UKFI) said JP Morgan Cazenove would help devise strategies for "realising value for the government's shareholdings".
UKFI said it will review the appointment on a periodic basis.
The government is expected to begin the sale of its Lloyds stake by September 2013 if the share price remains strong.
Eighteen banks were on the shortlist to advise on strategy, including Goldman Sachs, Credit Suisse and Deutsche Bank.
UKFI said that JP Morgan Cazenove would act as its privatisation advisor, and provide "ad-hoc input" to complement the body's existing expertise.
Lloyds and RBS were bailed out with £66bn ($101bn) of taxpayers' money during the 2008 financial crisis.
Lloyds is 39% state-owned while the government has an 81% stake in RBS.
At his Mansion House speech in June 2013, the Chancellor George Osborne said that he would only sell the "stake in RBS when we feel the bank is fully able to support our economy and when we get good value for you, the taxpayer".