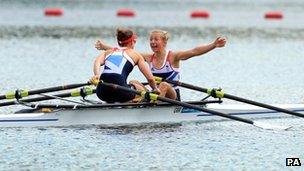 This government is usually quite sceptical of the idea that you can borrow and spend your way to faster growth. But not, apparently, when it comes to the Olympics.
Today's official report on the economic benefits from the 2012 Games goes out of its way to show that the Olympics more than paid for itself in new business for UK companies - and, presumably, higher tax revenues for the Treasury.
In fact, if you were just looking at the headline findings of this report you might well conclude that the government should be going in for a lot more "grand projects". Like the Olympics, they might add to public borrowing in the short term, but help "catalyse" a long-term boost in UK investment and growth.
It sounds positively Keynesian. Except, I don't think even the most fervent supporter of Keynesian-style stimulus plans would recommend doing anything based on the headline findings of this report - let alone the details.
As I said on the Today programme this morning, it would be rude to call the benefit numbers flakey. But most economists would say they were deeply speculative, at best.
The point is not that the Games didn't bring economic benefits - it would be hard for something that cost roughly £9bn not to have any economic benefits. And of course they brought lots of more intangible benefits, for all of us.
But remember the big £9.9bn figure we got today is supposed to be the extra business for UK firms from 2012, in addition to the jobs and income that were directly generated by building the stadium and other investments to prepare for the games.
To make even a rough guess of the extra business generated, you need to have a sense of what would have happened anyway; what academics would call "the counterfactual".
They never really provide that in today's glossy report. The implicit assumption seems to be that - had it not been for the Olympics - that £9bn would simply not have been spent.
Would that have meant £9bn less in government borrowing over the period leading up to 2012? The report does not say. Nor does it offer the chancellor's view on that alternative future.
We do have some hard numbers, here, on the business that UK companies have won to help with Rio Olympics, which add up to about £120m. In total, the report says that UK contracts for other international sporting events add up to £1.5bn.
More problematic is the £2.5bn of "additional" inward investment into the UK since the Games.
This turns out to include, among other things, any investment announced at Department for Business events that took place in and around the Olympics - or any investment made since then, by any company that attended one of these events.
As Vince Cable conceded on the Today programme this morning, that is a pretty broad definition.
We know that companies with big deals in the offing will have been encouraged to "save them up" for these set piece occasions. They always are.
We also know - or at least have to hope - that many of the very big companies that were all encouraged to come to these conferences would have invested in the UK anyway. That, presumably, is why they came.
But at least those "extra" investments actually took place, (even if they include a Westfield shopping centre in Croydon.) The "additional sales" which account for nearly two-thirds of the £9.9bn in total benefits is not based on any actual sales numbers at all.
It is based, rather, on the assumed effect of all the extra engagement with companies that UKTI and the Department for Business undertook as part of its Olympics business strategy.
It's quite possible that these efforts did generate extra sales for companies. The department has carried out surveys which suggest it has done this in the past.
The point is that all these companies would have been doing something else if they had not been doing all these "Olympic-inspired" things. And so would all those civil servants.
Again, it's not that the Olympics won't have generated a payoff for UK plc - in addition to all that happiness and general raising of our national self-esteem. But if you're going to put numbers on it, I suspect most economists would say they need to be a lot more rigorous than this.
Still, you can't help thinking how happy the authors of this research must have been, that the total benefits happened to come in so close to a chunky number like £10bn - and just above what the games are said to have cost. What luck.