Pension 'crunch' to come in 2014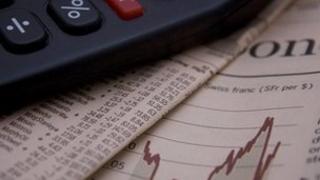 Employers and their staff should prepare for a "pensions crunch" when a host of workers are enrolled into workplace schemes, experts say.
The latest figures show that one million people have been automatically enrolled into schemes, under a government policy to encourage saving.
Under the gradual introduction of the project, staff with some 29,000 medium-sized firms will join in early 2014.
Smaller businesses will eventually sign up by 2018.
"This is a real landmark, finally reversing decades of decline in pension saving," said Pensions Minister Steve Webb.
Opt-outs
Automatic enrolment started in October. A slice of an employee's pay packet is automatically diverted to a savings pot for their pension, assuming they are aged 22 or over and earning at least £9,440 a year.
Employers are obliged to pay in as well, with the government adding a little extra through tax relief.
Those who already save in a workplace pension scheme or are self-employed will not be signed up.
Experts and ministers say it is vital people make a start at an early stage in their working lives, to eventually have savings that will top up the state pension.
But staff have an option to opt-out of being automatically enrolled, if they would rather save or spend in their own way.
Anecdotal evidence suggests opt-out rates so far in the largest companies are low, often running at between 5% to 15%, according to the Pensions Regulator.
A study into the level of opt-outs will be conducted by the Department for Work and Pensions later in the summer.
High demand
Staff who work for the biggest businesses have been part of the early stages of the project.
Medium-sized firms will be the next to become involved, and they are being urged to ensure that they are ready for the upheaval to their payroll systems.
"With close to 30,000 employers due to auto-enrol in the first half of 2014 there are serious questions about how the industry will cope with this influx of demand," said Laith Khalaf, head of corporate research at investment company Hargreaves Lansdown.
"An automatic enrolment strategy typically takes six months to formulate and implement. Auto-enrolment is going to cost many companies serious amounts of money."
He said it was vital that a communications strategy was put in place so staff knew exactly what was going on, otherwise the potential benefits would be lost.
David Robbins, a senior consultant at Towers Watson, said he thought there could have been more than a million workers enrolled so far as some could have been signed up before the official procedure began.