Dell delays vote on buyout by founder Michael Dell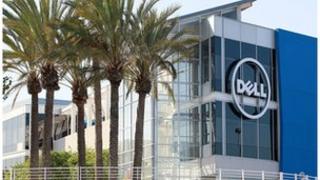 Dell has announced an eleventh-hour delay on a vote on founder Michael Dell's plan to buy the computer maker.
Thursday's vote at a shareholders' meeting at Dell's Texas headquarters has been put back until next Wednesday so the board can drum up more support.
Mr Dell has spent the past five months trying to persuade shareholders to approve the buyout proposal.
But the board-backed plan has faced opposition from billionaire Carl Icahn, who argues the offer undervalues Dell.
About 300 shareholders attended the meeting, and many others had already cast proxy votes. Shareholders are allowed to change their votes until polling closes.
The board has recommended that shareholders accept Mr Dell's $24.4bn (£16bn) offer.
With the PC maker's sales and share price falling as consumers turn to tablets and mobile devices, the board thought the company had a better chance of being turned around if it was taken private.
But Mr Icahn had suggested the company buy back 1.1 billion shares at $14 a piece, and offer shareholders the right to buy more Dell shares at a later date.
The board had called Mr Icahn's proposal risky and short on details.
In a short statement, the board said: "Dell announced that today's special meeting of stockholders was convened and adjourned to provide additional time to solicit proxies from Dell stockholders.
"No vote was taken on the proposed transaction prior to the adjournment. The special meeting will reconvene on July 24."
The statement made no mention of the voting tally so far, but the delay suggests that Dell did not have enough votes needed to approve the board-backed plan.