Housebuyer interest halting rent rises, survey suggests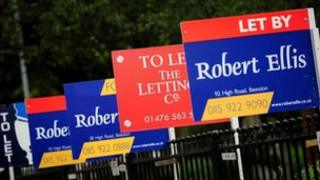 A pick-up in activity among first-time buyers has put the brakes on increases in the cost of renting a home in England and Wales, a survey suggests.
The average monthly bill of £737 in June was the same as May, according to LSL Property Services, although annual costs have gone up by 2.6%.
Five regions saw rent increases compared with May, led by a 0.7% rise in the East Midlands.
Rents fell sharpest in Wales, recording a drop of 1.9%.
Competition for homes
The average annual rise was slightly below the level of inflation. Rental costs have been virtually unchanged since March, when the average rent was £735.
"Milder competition for tenancies has kept a lid on the cost of renting," said David Newnes, director of LSL which owns lettings agents Your Move and Reeds Rains.
"In the longer-term, the number who can afford to buy a first home will be limited by some fundamental constraints - earnings, and the building of new homes. That is why we expect average rents to at least match wider inflation in the coming years."
Rents increases over the past year have been driven by a 6.4% rise in London. The East Midlands was the only other region that recorded a year-on-year rise above the England and Wales average of 2.6%.
The cost of renting a home was cheaper in the north-west of England compared with a year ago, down 1.1%. There was also falls in Yorkshire and the Humber (down 0.4%), and the east of England (down 0.1%).
The total amount of late or unpaid rent increased slightly in June, rising by £4m since May. Total arrears in June increased to £280m, some 8.3% of all rent across England and Wales.
Earlier this week, a report by the Resolution Foundation said that a third of Britain was effectively off-limits to lower-income working families because private rents were unaffordable.
It said most of southern England was beyond the reach of less affluent households, but Housing Minister Mark Prisk said the report was "factually flawed" and failed to take housing benefit into account.