Is China's rise unstoppable?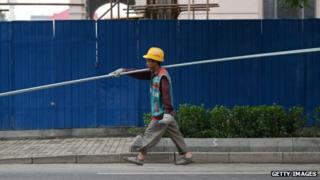 A clear majority of Brits, Germans, Spaniards, Canadians, French people, Poles, Australians and South Koreans believe China will supplant America as the world's leading superpower (and quite a few of those think it's already happened).
However, for all the African land and minerals that China has gobbled up, only a minority of Africans believe China will become more powerful, in a political and economic sense, than the US.
And there is similar scepticism about the sustainability of China's rise in much of the middle east and parts of South America.
As for Russians, well they are split down the middle - which may tell you something about Russia's complicated and uneasy historical relationship with both the US and China.
These are among the intriguing results of a poll conducted by Pew Research of almost 38,000 people in 39 countries between March and May this year.
And when it comes to the economic aspect of power, there are some equally striking results.
For example, 44% of Americans named China as the world's most powerful economy, rather more than the 39% who picked out the US as No 1 in this narrower sense.
And a clear majority in the UK, Germany, France, Spain, the Czech Republic and Australia describe China as "the world's leading economic power".
So who is right - the Europeans who already doff their caps at China's might, or the Africans who see the Chinese buying up their assets but are doubtful that America will ever be knocked off the apex of power?
Well right now, and as I implied last month, African mild scepticism about the seemingly unstoppable rise of China looks quite smart.
For two reasons: there is a gentle economic recovery taking hold in the US, that could and should accelerate.
But more germanely, and as I've said before, there are reasons to believe that China's much more rapid growth could slow down sharply and even judder to a halt.
That kind of hard landing (to use the ghastly economists' cliche) is not what the International Monetary Fund (IMF) said it expects in its so-called Article IV consultation on the People's Republic of China.
The IMF still expects China's economy to expand 7.75% this year - although it acknowledges downside risks.
What is striking is that IMF data confirms earlier unofficial estimates of the rapid - and many would say dangerous - pace of lending since the global financial crisis of 2008.
In four years, what the IMF calls "social financing" - loans that aren't on the government's official balance sheet, so more or less what we would call private sector lending - rose by more than 70% of Chinese GDP to almost 200% of GDP in total.
And big contributors to this credit explosion were relatively unregulated "shadow banks", which makes it more likely that corners were cut when the lenders assessed whether the borrowers would ever be able to repay.
To put this into some kind of context, the IMF also shows that net domestic credit in China as a percentage of GDP is high for a country with its relatively low GDP per head.
So its private sector indebtedness is higher than in the US and Germany - where income per head is between eight and nine times greater.
Chinese indebtedness is much higher than for other fast-growing economies, such as Malaysia, Vietnam, Brazil, Russia and India.
Which implies that in recent years China became too dependent on credit-fuelled growth.
And there has been evidence that China's government and central bank have recognised that this lending binge has become dangerous, and is taking steps to curb it.
But if in a low growth world, if credit creation in China is no longer going to generate growth, what will?
Of course, China's credit boom has been very different from what undermined the foundations of our economy in the binge years before the 2008 crash.
In our case, it was households that borrowed too much.
The structural flaw in China's economy has been a surge in credit-fuelled investment of unprecedented proportions.
Again, as IMF data shows, investment represents almost 50% of GDP, massively more than any developed or developing economy. There are no examples in history that I can find where this kind of boom hasn't ultimately led to a crash - although it is never possible to scientifically predict the timing of the reckoning.
What China needs to do (to state the blinkin' obvious) is to boost consumption - which is also at record lows as a share of GDP compared with both advanced economies and emerging ones.
Managing that shift from excessive investment to sustainable consumption in China represents one of the economic challenges of our age - and, since China has recently been the world's engine of growth, it matters almost as much to us as it does to the Chinese.