Letting agents: Curb 'cowboy' practices, say MPs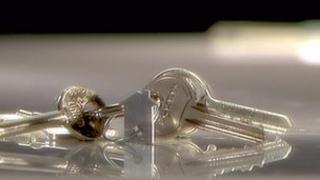 Letting agents should be subject to tighter regulations that would make it possible to ban those guilty of sharp practice, a group of MPs has urged.
The letting sector suffers from "cowboy" agents who "rip off" landlords and tenants, says a Communities and Local Government Committee report.
Problems included unreasonable fees and opaque charges, said committee chairman Clive Betts.
"Letting agents are subject to less control than estate agents," he added.
Mr Betts described the letting sector as "the property industry's Wild West", adding that those acting improperly needed to "play by new rules or get out of the sector".
'Regulation required'
The report follows widespread concern about the level of fees charged by letting agents.
In June, housing charity Shelter said charges were "out of control" after its inquiries indicated that tenants in England were having to pay an average of £350 in fees on top of a deposit and up-front rent.
The Office of Fair Trading (OFT) recently found that about a third of all complaints about the lettings market were about fees and charges.
Concerns have been raised about how many of these charges were "drip-fed" after tenants had signed a contract.
The committee report said letting agents should be subject to the same level of regulation as estate agents. This would allow the OFT to ban those guilty of abuses.
It also demanded action to crack down on hidden and unreasonable fees, saying agents "should be required to tell tenants about fees before they start the letting process".
Refund call
Housing Minister Mark Prisk said: "The committee's report offers a useful contribution to this important issue. We are determined to build a bigger and better private rented sector that gives tenants more choice but we should avoid excessive regulation on the sector which would push up rents and reduce choice for tenants.
"We are taking action to require all letting agents to belong to a redress scheme so landlords and tenants have somewhere to go if they don't get the service they deserve, and investing £5.5m for councils to tackle rogue landlords in their area."
Shelter called for urgency from the government in implementing changes, pointing out that nine million people lived in the UK's private rental sector.
It wants to see long-term tenancies for families, an end to upfront fees charged by landlords, and refunds of rent for tenants if a landlord is convicted of letting a property below the legal standard.
The Property Ombudsman, Christopher Hamer, said that many lettings agents were not affiliated to any trade association.
He agreed that a "full disclosure" of fees, and a code of conduct used by the whole industry, was needed.