Yahoo shares soar after strong results from Alibaba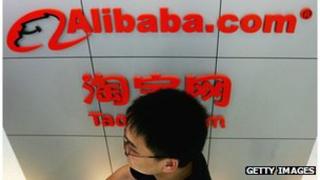 Shares in Yahoo surged more than 10% on Wall Street after the firm reported soaring sales at its Chinese online retailer, Alibaba.
Yahoo's quarterly results released late on Tuesday showed that Alibaba reported a 71% jump in quarterly sales to $1.4bn (£920m).
That eclipsed Yahoo's overall performance which included a fall in 13% fall in advertising revenue.
Started in 1999, Alibaba now has 25 businesses and employs 24,000 staff.
By some measures it has become the world's biggest internet retail firm, bigger than Amazon or eBay.
Alibaba is expected to sell shares on the stock exchange for the first time later this year.
Given the company's strong growth analysts have been scrambling to raise their estimates given the company's strong growth.
Investment bank Evercore Partners raised its valuation on Alibaba to $120bn, that is more than $100bn than Facebook was thought to be worth before it first listed on the stock exchange in May last year.
Yahoo invested $1bn in Alibaba eight years ago in return for a 40% stake in the business.
Now analysts estimate that half of Yahoo's value is accounted for by those shares of Alibaba.