OBR urges £19bn more in spending cuts or tax rises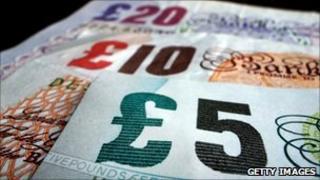 An ageing UK population will put "unsustainable" pressure on public finances unless some £19bn of spending cuts or tax rises are introduced, says the Office for Budget Responsibility.
"Population ageing will put upward pressure on public spending," it said.
The OBR said these additional savings would be needed in the year to April 2019, on top of the already-announced £153bn in austerity measures.
It said to overcome this, there should be a steady influx of immigrants.
The independent body's comments came in its latest fiscal sustainability report.
'Finances on unsustainable path'
The OBR said that to return the UK's debt to GDP ratio to its pre-crisis level of around 40% of GDP by 2062-63 would require a permanent increase in taxes or cuts in spending of £19bn, equivalent to 1.2% of GDP.
It also warned that if no action was taken, the cost of an increasingly-elderly population and the provision of pensions and healthcare would erase the impact of much of Chancellor George Osborne's spending cuts,
"It is clear that longer-term spending pressures, if unaddressed, would put the public finances on an unsustainable path." the report says.
It added that if nothing was done to address these "demographic pressures" then it would create a "structural deterioration", or financial hole, equivalent to £65bn in today's terms.
The OBR also said the introduction of a single-tier state pension slightly reduced the burden on public sector debt, but added that spending on healthcare would be the biggest fiscal pressure over the next five decades.
The OBR, founded in 2010, provides independent economic forecasts as background for the preparation of the UK Budget.
Immigrants
It said that to overcome the effects of the ageing population over the coming decades, there should be a steady influx of immigrants each year.
The report said that allowing more than 140,000 immigrants a year into the the UK from 2016, would increase the number of people in work, and would improve the national public finances.
It says the UK's borrowing as a proportion of GDP would be 99% if there was a steady flow of immigrants, but it also says that if there was "zero gross migration", public borrowing would rise to 174% of GDP.
"Our sensitivity analysis shows that overall migration has a positive impact on the sustainability of the public finances over our 50 year horizon," the OBR said.