BP asks for temporary halt to Gulf compensation payments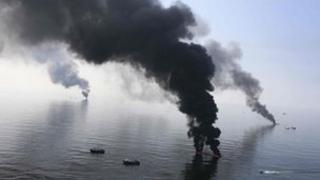 BP has asked for a temporary halt to all compensation payments to people and businesses who say they lost money after the Gulf of Mexico oil disaster.
In a New Orleans court filing, BP said further payouts should wait until an investigation into alleged misconduct over the settlement claims is complete.
BP said many of the claims could be "tainted by fraud, corruption and malfeasance".
Former FBI director Louis Freeh is investigating alleged misconduct.
The Deepwater Horizon oil rig explosion in 2010 killed 11 workers and released an estimated four million barrels of oil into the Gulf of Mexico and along the coastline.
BP put aside $7.8bn (£5.2bn) when it agreed to pay compensation in 2012, but the company has become increasingly concerned that the final figure will be much higher because of false claims.
Earlier this month, Judge Carl Barbier, who is hearing civil cases over the disaster in 2010, appointed Mr Freeh to lead a "thorough investigation into the recent allegations of unethical and potentially criminal behaviour".
BP says that it believes a temporary pause of all claims payments is "prudent and necessary"' during Mr Freeh's investigation.
It was unclear when the court would consider BP's request.