Goldman Sachs doubles profits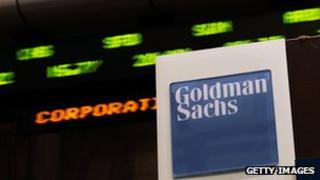 Goldman Sachs has reported a surprise doubling of profits in its latest quarterly results.
The broker-dealer made $1.9bn (£1.2bn) in the three months to the end of June, up from $927m a year earlier, despite tough trading conditions.
Its earnings were lifted by big returns on its own investments in shares and debts, which generated $1.4bn in net revenues, up from $200m a year ago.
Employee pay accrued during the period was also up, by a quarter to $3.7bn.
It meant that 58% of the pre-tax earnings available to staff and shareholders during the period is to be paid out to employees - down from 67% a year ago.
The profit that Goldman made on its own investments came as it sold off its last remaining shares in Industrial and Commercial Bank of China.
Other bright spots in its revenue figures came from the fees earned by its investment banks, with net revenues up 29% to $1.6bn. Market-making traders generated a 28% rise in net revenues to $2.7bn.
Overall, it was a second solid quarter in a row for one of Wall Street's best-known firms, after booking net earnings of $2.3bn in the three months to March.
The latest quarter's profits were about a third higher than market analysts had expected on average, and came despite rough trading conditions in June, sparked by speculation that the Federal Reserve would stop its monetary stimulus and begin raising interest rates much sooner than previously assumed.
Goldman's share price gained 3.5% at the start of trading on Tuesday.