Glencore Xstrata suspends Australian iron production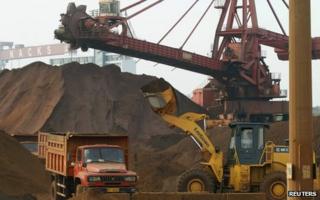 Glencore Xstrata has suspended its Australian iron ore mining due to weak demand and rising costs.
The firm began producing magnetite iron ore alongside copper at its Ernest Henry mine in Queensland two years ago.
But operations have been hit by weaker demand from China, with ore prices falling over 30% in the last two years.
Separately, Glencore has begun the sale of its Las Bambas copper mine in Peru for an expected $5bn, to comply with demands from the Chinese authorities.
The sale of its entire stake in the mining project was required by the Chinese Ministry of Commerce as a condition for allowing Glencore's $30bn merger with Xstrata earlier this year.
The mine - which is currently under construction near Cuzco - contains an estimated 10.5 million tonnes of copper ore, and is expected to start producing in 2015.
China is the biggest market for many of Glencore's products - accounting for approximately 40% of copper sales worldwide, and two-thirds of tradable iron ore sales, according to estimates by rival Rio Tinto.
More than one state-owned Chinese company is believed to be interested in buying the mine.
However, Chinese demand for base metals has softened considerably this year, as the country's economy slows and reins in its four-year-long construction boom.
Weak demand has already prompted Glencore to abandon plans to develop a coal export terminal on Balaclava Island in Australia, and it has now suspended its iron ore operations in the country.
"Falling revenue, increasing production costs and ongoing high logistics costs in getting our product from mine to market have eroded the margins in this business," a Glencore spokesperson said.
Glencore's iron ore production in Australia is significantly smaller than that of rivals Rio Tinto and BHP Billiton.