Australia PM Rudd sets out carbon tax shift cost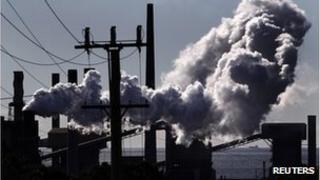 The Australian government says its plan to scrap an unpopular carbon tax will cost A$3.8bn ($3.5bn; £2.3bn).
Prime Minister Kevin Rudd said the move - first signalled on Sunday - would be funded by alternative savings and would mean that families were better off.
It comes ahead of elections which must be called before the end of November.
The carbon tax was introduced by Mr Rudd's predecessor, Julia Gillard, whom he ousted as Labor Party leader last month.
Since the leadership change Labor has seen its poll figures - which were low under Ms Gillard - rise significantly.
Ms Gillard had set an election date for 14 September. Mr Rudd has indicated he will change the date but has not specified to when.
Opposition leader Tony Abbott, who had looked on course to defeat Ms Gillard in the election, has called on Mr Rudd to set a date as soon as possible.
'Cost of living'
Speaking in the Queensland city of Townsville, Mr Rudd said he wanted to end the fixed price on carbon emissions a year early on 30 June 2014 and to bring forward a switch to a European-style emissions trading scheme.
The plan can only be legislated after the general election is held.
The carbon tax, which was introduced in 2012, forces the worst-polluting firms to pay a levy for every tonne of greenhouse gases they emit. Australia is the worst polluter per head of population in the developed world.
"The nation's 370 biggest polluters will continue to pay for their carbon pollution but the cost will be reduced, meaning less pressure on consumers," Mr Rudd said.
"The government has decided to terminate the carbon tax to help cost of living pressures for families and to reduce costs for small business."
According to Mr Rudd a floating price of carbon would reduce prices from the fixed level of A$25.40 per tonne to about A$6 a tonne.
He said this would mean an annual saving of about A$380 for an average household due to lower gas and electricity bills.
The government said it has planned A$3.9bn worth of savings to pay for the shift in policy and make up for the budget gap. The savings will include removing a tax concession on the use of employer-provided cars.
However, the conservative opposition said it would end a price on carbon altogether if elected, with Mr Abbot on Monday calling an emissions trading scheme a "so-called market in the non-delivery of an invisible substance to no-one".
"Ever since Copenhagen, it's been absolutely obvious that the world is not moving towards taxes - whether they're fixed taxes or floating taxes," he said.