Libor: Serious Fraud Office charges two more brokers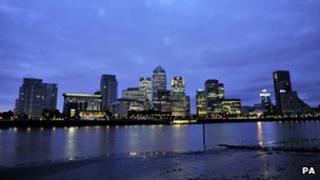 Two former brokers have been charged with conspiracy to defraud in connection with the manipulation of the inter-bank lending rate Libor.
The Serious Fraud Office (SFO) said Terry Farr, 41, and James Gilmour, 48, formerly at RP Martin Holdings, were charged by City of London Police.
They will appear before Westminster Magistrates' Court at a later date.
They were arrested in December, along with former UBS and Citigroup trader Tom Hayes, who was charged in June.
In a short statement on Monday, the SFO said Mr Farr and Mr Gilmour "attended Bishopsgate police station this morning where they were each charged by City of London Police with counts of conspiracy to defraud".
The SFO opened its investigation into Libor manipulation in the wake of Barclays' £290m ($454m) fine by US and UK authorities. A string of international banks have been implicated in the affair.
The Libor rate is used to set trillions of dollars of financial contracts, including many car loans and mortgages, as well as complex financial transactions around the world.