Donations website reassures over use of funds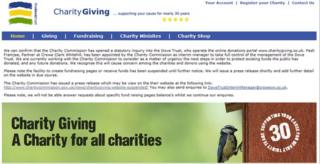 The leading online giving company, JustGiving, is trying to reassure fundraisers after a rival donations website hit the financial rocks.
The Charity Commission suspended rival charitygiving.co.uk on Friday.
A shortfall of at least £250,000 was found in the funds that the website should have passed on to charities.
JustGiving founder and chief executive Zarine Kharas said: "It couldn't have happened to us because the monies owed to charities are 100% ring-fenced."
JustGiving operates a trust account for donations, which can only be accessed with the independent consent of three top managers.
Any funds in the account would not be available to administrators or liquidators if the firm went under.
Secure
Zarine Kharas is calling for all online giving websites to be made secure.
"I think similar safeguards to solicitors and accountants should be put in place," she says.
Online giving has become popular because of the ease of donating, simply through the click of a mouse.
But there's concern that the problems at charitygiving.co.uk, which handled £100,000 a week, could put off the UK's army of sponsored runners, swimmers, and other fundraisers, just as charities are struggling to maintain their incomes.
The Charity Commission believes that thousands of people staging charity runs and other events could have been affected.
"The trustees have not filed any accounts since the year ending 5 April 2009 and the Commission has serious concerns about mismanagement in the administration of the charity by the trustees in relation to the operation of the online donations portal and risk to charity funds," the Charity Commission noted on Friday when it suspended the organisation's website.
"The interim manager will now undertake an urgent, detailed review of the charity's finances to establish the extent of the shortfall and which charities and donors are affected."
Investigation
Charitygiving.co.uk's interim manager, Pesh Framjee, of Crowe Clark Whitehill, who was appointed by the Charity Commission, told the BBC that he was in discussions with organisations that could take over the running of the business.
But he warned that charities may have to "take a hit" on the money they are owed.
The move came amid a statutory investigation by the Commission into The Dove Trust, which runs the donations website.