How to keep the summer holidays cheaper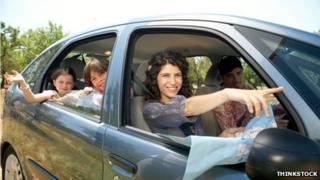 The summer holidays have started for some schoolchildren already, and for parents the cost of childcare and keeping them entertained can be overwhelming.
Research from the Nationwide Building Society suggests that parents will spend nearly £1,000 per child over the six-week break.
The study says that parents will spend £390 on childcare costs alone and are expecting to pay £340 for each child on food and drink and £250 per head on entertainment and treats.
The national charity 4Children, is also worried about the pressure the summer holidays put on parents' bank balances.
'Work pressures'
4Children found that the cost of on-the-day tickets for a family of five going to Legoland in Windsor is now more than £200.
The same family has to pay almost 60% more for a day out at Alton Towers than it did in 2009 if it buys tickets on arrival while at Thorpe Park, the on-the-day price has risen by 20% over that period.
But a spokeswoman for Merlin Entertainments, which owns Alton Towers, Thorpe Park and several other attractions, said the majority of people benefit from special offers and so the average price of tickets had actually gone down.
"More than 90% of our visitors come to us having taken advantage of one of our fantastic offers throughout the season, or increasingly by booking in advance on our own websites, or taking advantage of ongoing group and special offers," she told the BBC.
"Because of this - and even despite a significant increase in VAT during the last five years - the average price actually paid by a family to go to one of our parks has in fact reduced over that period."
Anne Longfield, chief executive of 4Children, says days out can strengthen bonds between families, who may already be struggling with financial concerns, and believes that workers have to negotiate with their bosses too.
"For parents it's about employers being flexible about enabling them to take time off, or perhaps working more flexibly over that time period," she says.
The charity is also urging the chancellor to ease the financial pressures facing parents.
"There is a role for government to look at childcare costs and bring some of that cost down for parents."
Do your research
According to travel expert Alison Rice, the key to keeping costs down over the summer holidays is to do your research.
"In this country you're never more than 72 miles from the coastline but getting there can be expensive and difficult," she says.
"Your homework to holiday research ratio is quite high. Most of the public transport offers, such as free entrance to a theme park if you buy a railcard, or two for one attraction entries, do require a lot of forward planning and are usually only available in July," she says.
Buying tickets on the day can be very expensive compared to buying them online in advance.
A family of five going to Alton Towers can save £49.50 by pre-booking, for example, from an on-the-day price of £198.
Picnics
But Alison also believes that free activities can be as fun as going to paid attractions.
"We are blessed with a lot of free open spaces. I'm a great believer in looking at your own region where you live through the eyes of a visitor, and start with parks and open spaces - places to visit which are free.
"Why queue and pay for a café lunch when you can have a picnic for free? I think it has to be pouring down with rain to not have a picnic."
She also suggests getting your children involved in preparing the picnic too.
If you are worried about the great British weather then there are plenty of things to do indoors.
Quite a lot of free activities can be found in museums up and down the country. They offer free events such as treasure hunts and workshops.