AS Monaco faces taxing football issues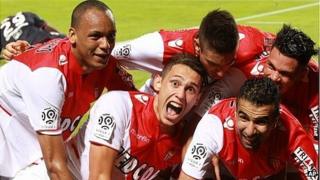 For years France has been considered the weakest of the so-called Big Five football leagues in Europe - a quintet which also includes England, Germany, Spain and Italy.
However, the past couple of seasons have seen exciting developments with clubs Paris Saint-Germain and AS Monaco being bought by wealthy overseas owners.
Both the Qatar Investment Authority in Paris and Dmitry Rybolovlev at Monaco have international ambitions for their clubs, and their big-name international signings have raised the profile and glamour stakes of the domestic Ligue 1.
Despite this, a huge row is now brewing in French football over the tax advantages enjoyed by newly-wealthy AS Monaco.
Being based in the tax haven of Monte Carlo, they are able to offer overseas stars - such as Colombian striker Falcao, a £51m summer signing from Atletico Madrid - massive tax-free salaries, something their 19 French-based league rivals are unable to do.
'Huge wealth'
"The advantage is huge in being able to convince huge players like Falcao to move to the club," says French journalist Cyrille Haddouche of Le Figaro newspaper, who has been watching events closely.
He points out that while these tax rules have always been in place, what is different now is that their effects are being multiplied by "the huge wealth of the Russian owner".
It means rival clubs - historical and successful names such as Lyon, Lille, Marseille and Saint-Etienne - are unable to financially compete with AS Monaco, either with billionaire Mr Rybolovlev's deep pockets, or their tax advantages.
"So the tax advantage that Monaco has is considered as unfair [by the clubs], especially in a period of economic difficulties for all clubs except Paris Saint-Germain," says Mr Haddouche.
"For example, former winners of the league, Lyon and Lille, must now sell players in order to reach break even."
The resentment felt by other clubs comes against the backdrop of the prospect of the introduction of a 75% tax rate on individual annual incomes in France exceeding 1m euros (£860,000), including those of footballers.
The proposal was a central part of President Francois Hollande's election campaign, and although initially scuppered by the courts, the policy may be reintroduced in a different form.
The president of the Ligue de Football Professionnel (LFP), Frederic Thiriez, has been fighting the 75% proposal, but has also said that something needs to be done about AS Monaco's tax advantage.
He said unless the rules changed then the newly-promoted club would have a 50m euros (£43m) a season advantage over other clubs.
Legal hearing
To end this state of affairs, the French league has told AS Monaco they must relocate their headquarters, and hence tax base, to France by June 2014.
If not, they face possible suspension from the league. However, unsurprisingly, AS Monaco is not happy with this development, and has taken the matter to the French courts.
The matter has gone to France's highest court for administrative law, with a decision expected by the turn of the year,
"We are expecting the opportunity to plead the case before the Conseil d'etat, probably in October or November, with a decision some time in December," says AS Monaco's legal representative Patricia Moyersoen.
"It is very clear it will be much more expensive if they have to move all their staff, including players, to France - it means they will all have to pay French taxes," adds Ms Moyersoen, who is also president of the International Association of Football Lawyers (AIAF).
"It is clear the club does not want to move - they consider they have been a member of the French federation for a long time and it is not fair or legal to ask them to move [their headquarters] now."
A convention between France and the principality does mean that French players employed by the football club do have to pay their taxes in France.
And Ms Moyersoen says that this fact might be one way around the tax issue, by looking at the number of French players employed by the club, with some sort of player quota requirement being a possible solution.
As well as the legal battle, a French sports marketing expert believes the country's football authorities are taking a short-term rather than long-term view and that a successful Monaco would be an asset for the Ligue 1 brand.
"France, and Spain, have not realised the importance of having a strong league brand, as opposed to strong club brands," says Frank Pons, a marketing professor at Laval University in Canada and Kedge Business School in France.
"If they create a strong league brand then in two or three years' time you could see people around the world wearing PSG or Monaco shirts."
Title challengers
Meanwhile, AS Monaco got off to a winning start on their return to the top tier as Ligue 1 kicked off again last weekend, with big signing Falcao scoring in a 2-0 win over Bordeaux.
The Colombian has been joined at the club over the summer by compatriot James Rodriguez and Portuguese star Joao Moutinho, who both signed from Porto for a combined fee of £60m.
And already there are early signs that financial advantage might be turned into silverware this season.
"Last year [champions] Paris Saint-Germain were alone," says Mr Haddouche. "Monaco has... a very good team able to compete with Paris Saint-Germain.
"Considering the fact the club will not play in European competition, Monaco has the quality to win the French league."