UK construction sector reviving, ONS figures show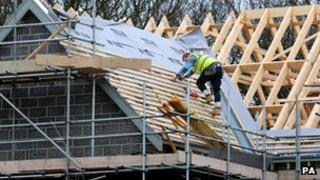 A revival in building has boosted the UK's construction sector, says the Office for National Statistics.
On a seasonally-adjusted basis construction output rose 4.6% in April compared with March, then flattened out in May, the ONS says.
The figures make it more likely that the UK economy will grow in the second quarter, building on its 0.3% growth in the first three months of 2013.
But output in May was still 4.8% lower than in the same month last year.
This is the first time the ONS has published monthly seasonally-adjusted figures for the sector.
Construction, which along with services and manufacturing is one of the three main measurements of economic output, has long been the worst-performing sector since the recession began in 2008.
Construction output has fallen 18.9%, compared with a 3.9% fall in gross domestic product (GDP) over the same period.
Construction volumes fell to £23.7bn in the first quarter of 2013, its lowest level since 1999, says the ONS.
'Positive contribution'
Howard Archer, chief UK and European economist at IHS Global Insight, said: "It looks highly likely that construction output made a recently all-too-rare positive contribution to gross domestic product growth in the second quarter, thereby helping growth to strengthen and broaden from the first quarter."
Housebuilders have been buoyed by the government's Help to Buy scheme, with Barratt recently reporting that its sales rate was up 17.9% in the first six months of 2013, and up 34.7% since the launch of the scheme in April.
House prices have also shown signs of a sustained recovery, while a recent survey from the British Chambers of Commerce said business confidence was at a six-year high.
"Any positive contribution from the construction sector in the second quarter would feel like a bonus for the UK economy, given the sector's prolonged struggle", said Mr Archer.
The UK economy is forecast to grow by 0.9% in 2013, according to the International Monetary Fund.