JP Morgan and Wells Fargo post big jump in profits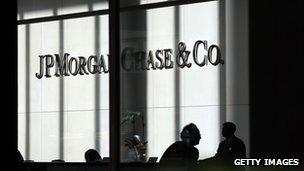 JP Morgan has recorded a profit of $6.5bn (£4.3bn) for the second quarter of 2013, up 31% from a year ago.
JP Morgan's steep rise in profits was flattered by the heavy losses controversially incurred by the US banking giant's chief investment office last year.
Dubbed the "London whale", trader Bruno Iksil ran up $6.2bn in losses in total.
Separately, Wells Fargo reported a 20% rise in quarterly profits to $5.27bn as it set aside less money for bad loans.
Net revenues at JP Morgan's large retail bank were slightly down from a year ago, but rose 10% at its investment bank, and also rose at its asset management unit.
JP Morgan is the first of the big US banks to report results. As the US's biggest bank by assets, JP Morgan is looked at as a bellwether for the health of banking industry.
The figures are the first the bank has posted since chairman and chief executive Jamie Dimon overwhelmingly won a shareholder referendum in May on whether he should hold both posts.
The US economy was showing "broad-based signs" of recovery, but consumers and small businesses remained cautious, he said.
The strength of the US economy is a key issue, with all eyes on when the US Federal Reserve will end its massive bond buying programme.
Questions about when the Federal Reserve might tighten policy have worried markets since the end of May, when chairman Ben Bernanke first hinted at the end of the programme.
"I think most banks are concerned with near record surges in currency and interest rate volatility," Larry McDonald, senior director at Newedge USA, told the BBC.
"That's the big concern right now - much more than the London whale in the past."
Wells Fargo, the biggest US mortgage lender, saw profits rise from $4.4bn to $5.27bn on revenue that barely changed at $21.4bn.
Provision for bad loans fell 64% to $652m.
"The consumer loss levels have improved rapidly due primarily to the positive momentum in the residential real estate market, with home prices improving faster and in more markets than expected," said Wells Fargo's chief risk officer Mike Loughlin.
Analysts had been watching for the bank's results to see how higher interest rates - and a potential slowdown in loans - were affecting business.
Mortgage rates have been on the rise since May, and 30-year rates reached a two year high on Thursday.
While revenues were flat, mortgage applications rose 4.2% compared with the first quarter of 2013 - suggesting that higher rates and the prospect of the Fed winding down its stimulus programme were not affecting consumer demand.
Related Internet Links
The BBC is not responsible for the content of external sites.