Infosys shares surge as firm maintains revenue forecast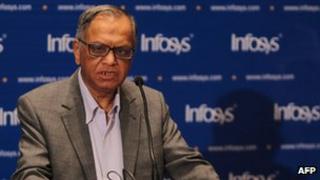 Shares of Infosys, India's second-largest software firm, have surged by as much as 12% after it reported a jump in profits and left its yearly revenue growth outlook unchanged.
It made a net profit of 23.8bn rupees ($397m; £262m) in the April to June quarter, a 3.7% jump from a year ago.
Infosys has struggled in recent months to maintain its growth rate amid a slowdown in key markets such as the US.
Last month, it asked its co-founder Narayana Murthy to return as chairman.
"This is far better than what some people in the market were expecting," said Tarun Sisodia a director at Chanakya Niti Pvt Limited in Mumbai.
"The earnings have been pretty volatile in the last few quarters and this time around the expectations were muted given what has happened in the company recently."
The company maintained its forecast of 6-10% revenue growth in the current financial year.
Murthy magic?
India's software firms, including Infosys, have seen their growth rates slow in recent years.
They have been hurt by an economic slowdown in key markets such as the US and Europe, which has affected demand.
Earlier this year, Infosys had warned that its profit margins may remain under pressure amid the challenging global economic environment, triggering concerns about the firm's health.
Prompted by the slowdown, the company asked its co-founder, the 66-year old Mr Murthy, to return to the helm.
Mr Murthy, who had retired two years ago, took charge of the firm on 1 June for a period of five years.
Analysts said that investors were betting that his return would help the firm achieve higher growth rates than it has seen in recent months.
"You can ascribe it to Murthy magic," said Phani Sekhar, a fund manager with Angel Broking in Mumbai.
"Generally you can conclude that the worst is over for them but it remains to be seen how quickly they can recover from here."