Broadband price cuts sought by Ofcom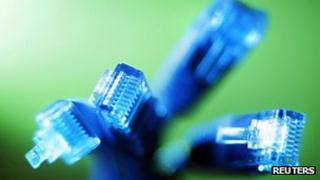 Broadband customers could see cheaper bills in the coming years under plans by Ofcom to cut wholesale prices.
The telecoms regulator has announced proposals to cut the cost that BT can charge other service providers to use its telephone and broadband lines.
Other providers currently pay BT up to £93.27 a year to rent the copper wire lines that provide telephone services and internet to the majority of homes.
Ofcom wants to see this cost fall in real terms over the next three years.
"These controls would reduce wholesale charges, which could be expected to lead to real-terms price reductions for consumers, as communications providers pass on savings to their landline and broadband customers," Ofcom said.
BT's network access division, Openreach, operates both copper wire networks, used for telephone and broadband connections, and a "superfast" fibre optic network.
The price changes do not cover the superfast network, which is being looked at separately by Ofcom.
Currently, providers pay to rent a line to provide either internet access, telephone access or both.
The wholesale cost to use the line for both is currently £84.26 year, while the cost for telephone calls alone is £93.27 a year.
The cost for internet alone is just £9.75 a year.
Ofcom has proposed cutting these prices by up to 12%, after inflation is taken into account, every year between 2014 and 2017.
"The proposed new prices are designed to provide incentives to invest in networks while also ensuring that broadband and landline prices are affordable for consumers," Ofcom said.