'Debt peril' warning over interest rate rises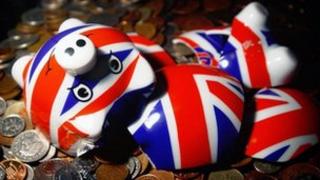 The number of families in "debt peril" could double over the next four years, a think tank has warned.
The number of households spending more than half of their disposable income on debt repayments could hit 1.2 million, the Resolution Foundation says.
This could happen if interest rates rise to 3.9% by 2017 and growth in household income is weak, it says.
But this "worst-case scenario" is gloomier than most economists expect, the report concedes.
The Bank of England's base rate is currently at an historic low of 0.5%. Recent comments from Mark Carney, the new Bank governor, suggest that bank base rates are not likely to rise any time soon, and current market expectations are that they will increase to about 1.9% by 2017.
Income squeeze
Matthew Whittaker, senior economist at the Resolution Foundation and the report's author, said: "There is now the real prospect that a large number of households already burdened with debt could collapse under its weight if economic conditions tighten.
"If the squeeze on household incomes continues, Britain could be left in a fragile position, with even moderate additional increases in interest rates leading to a major surge in families with dangerous debt levels - especially among worse-off households."
Under a best-case scenario, where interest rates rise by current expectations and household income growth is strong, 700,000 households will still be spending more than 50% of their income on debt repayments, the Resolution Foundation concludes.
Since 2007, this number has fallen by 270,000 to 600,000, or 2% of the population, because of falling interest rates.
But Mr Whittaker warns: "Policy makers and lenders need to use the current period of record low rates to defuse debt problems rather than storing them up for the future."
Rising debt levels
With the government's Funding for Lending and Help to Buy schemes encouraging banks to lend more to households and businesses, consumer debt levels are forecast to rise again after a period of stabilisation, the report says, citing official figures.
Total household debt is set to rise to £1.8 trillion by 2018, up from about £1.55tn now.
The debt-to-income ratio is also likely to rise from 143% to 151% over the same period, the report says, as household disposable incomes are squeezed.
On Wednesday, the Aviva Family Finances report said that average household debt had already risen by more than 40% in the past year, with a large chunk being owed to family and friends.
It studied data from 18,000 families and found that while incomes have been rising, so have debt levels.