EU unveils plans to wind down failed banks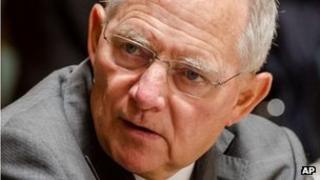 The European Commission has outlined plans for a single authority that will be responsible for winding down eurozone banks that get into trouble.
The blueprint for a "single resolution mechanism" was unveiled by EU commissioner Michel Barnier.
It may put the Commission on a collision course with Germany, which has argued that such an authority would be in breach of EU treaties.
The authority is part of wider plans for a European banking union.
The banking union project is designed to prevent a repeat of the global banking crisis.
Under the single resolution mechanism (SRM), a new authority will be given power to close or restructure any eurozone bank that runs into trouble.
This would override the decisions of authorities in individual EU states, which are currently in charge of closing failed banks.
Critics have warned that this could mean national governments being required to hand over taxpayers' money to help rescue banks.
'New uncertainty'
Under the SRM, a 55bn-euro ($70.5bn; £47.3bn) fund will be established, financed by levies on banks. As money is drawn from the fund to shore up banks, further levies would be imposed to top it up.
Mr Barnier insisted that the plan included safeguards to stop governments being forced to contribute taxpayers' money.
But Germany, the biggest economy in the eurozone, has voiced its objections to the creation of a single authority, arguing that it would require a new European treaty that may take years to agree.
On Tuesday, the German finance minister, Wolfgang Schaeuble, warned that the plan risked creating "new uncertainty in markets".
Speaking in Brussels, he said: "We have to stick to the given legal basis, as otherwise we risk major turbulence.
"I would strongly ask the Commission in its proposal for an SRM to be very careful, and to stick to the limited interpretation of the given treaty."