PC sales see 'longest decline' in history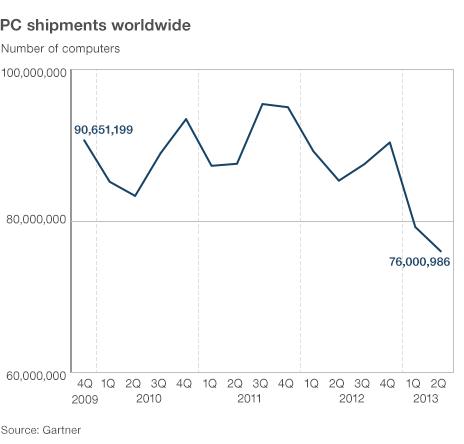 Global personal computer (PC) sales have fallen for the fifth quarter in a row, making it the "longest duration of decline" in history.
Worldwide PC shipments totalled 76 million units in the second quarter, a 10.9% drop from a year earlier, according to research firm Gartner.
PC sales have been hurt in recent years by the growing popularity of tablets.
Gartner said the introduction of low-cost tablets had further hurt PC sales, especially in emerging economies.
"In emerging markets, inexpensive tablets have become the first computing device for many people, who at best are deferring the purchase of a PC," said Mikako Kitagawa, principal analyst at Gartner, said in a statement.
Separate data released by research firm IDC also showed an 11.4% decline in global PC shipments during the period, from a year earlier.
However, it said that the numbers were better than it had expected and were likely to improve in the coming months.
"With second quarter growth so close to forecast, we are still looking for some improvement in growth during the second half of the year," said Jay Chou, a senior analyst at IDC Worldwide PC Tracker.
But he warned that the sector was facing risks and much work needed to be done to turn around things.
"Slower growth in Europe and China reflect the risks, while the improved US outlook reflects potential improvement. Still, the weakness in emerging markets is a threat to a core long-term growth area," Mr Chou said.
"In addition, while efforts by the PC ecosystem to bring down price points and embrace touch computing should make PCs more attractive, a lot still needs to be done in launching attractive products and addressing competition from devices like tablets."
Related Internet Links
The BBC is not responsible for the content of external sites.