Energy firm E.On's £3m penalty for light bulb saga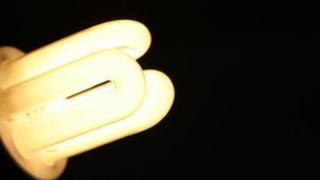 Energy firm E.On has been hit with a £3m penalty for failing to prove that it distributed free energy-saving light bulbs to consumers.
Some of the light bulbs were sold in the Irish Republic, while E.On could not prove that others were handed out.
The energy efficiency scheme was ordered by regulator Ofgem in 2010 as part of a carbon reduction programme.
Some £2.5m of E.On's penalty will be used to reduce the bills of vulnerable households in the coming winter.
It will go into the pot for those who face fuel poverty and receive support from the Warm Home Discount. The remaining £500,000 will be paid to the Treasury as a fine.
Apology
E.On claimed it had distributed almost 25 million free light bulbs to customers in 2010 to comply with a government programme to save energy, known as CERT.
Later, it was able to account for only 21m of the bulbs.
It put in place extra energy-saving measures to make up for the light bulb distribution error.
"We are sorry that these mistakes were made in 2010 and Ofgem has received a board level assurance that the necessary changes have been made. Our controls should have been stronger and our processes more robust," said Tony Cocker, chief executive of E.On UK.
"Overall energy efficiency obligations have been met, with the shortfall being made up by additional measures. No consumers were misled because of this mistake, but this does not take away from the fact it was an error that should not have been made."