Latvia gets Ecofin nod to become 18th eurozone member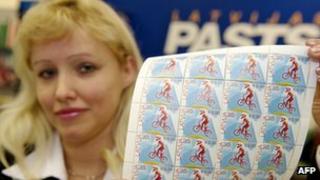 EU finance minsters have rubber-stamped Latvia's application to become the 18th country to use the euro.
The application for membership had earlier been approved by the European Commission and European Central Bank.
The exchange rate has been set at 0.702804 lats to one euro, and euro notes and coins will be issued in Latvia on 1 January, 2014.
Latvia is keen to strengthen ties with western Europe and reduce its dependency on Russia.
The country has met the criteria for euro membership, including low inflation and long-term interest rates, as well as low public debt.
Latvia underwent one of Europe's toughest austerity programmes after the 2008-09 financial crisis knocked a fifth off its GDP.
It received a 7.5bn euro bailout in 2008, but it has now repaid the loans.
"Ecofin has taken final decision approving Latvia's euro membership from 2014,'' the EU's current Lithuanian presidency announced via its Twitter account,
As he entered the Ecofin finance ministers' meeting earlier on Tuesday, Latvian Finance Minister Andris Vilks said it was a "symbolic day''.