M&S clothing sales continue to fall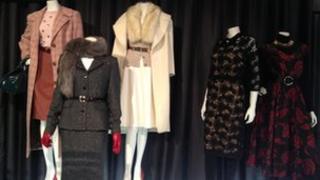 Marks and Spencer has reported a 0.3% rise in underlying UK sales for the latest quarter, as strong food sales offset a fall in clothing sales.
UK like-for-like sales rose 1.8% at its food business, but general merchandise - which includes clothing, footwear and homewares - fell 1.6%.
It is the eighth consecutive quarter of falling sales for general merchandise.
Meanwhile, about 800 shareholders quizzed management at its annual meeting in Wembley Stadium.
Perhaps to convince them of the company's new style, a fashion show was held on a catwalk for the first time.
Chief executive Marc Bolland has recently revamped the clothing division to try to boost flagging sales.
Shareholders demanded to know when they would see the results.
"We do not want to disguise that we're not happy," said Mr Bolland.
"I want to be very candid and honest that this is still unsatisfactory. We've got a very clear plan to address it."
M&S shares closed 1.4% lower at 453.20p.
Clothing 'bedrock'
Last year, M&S changed its retail team, bringing in Belinda Earl, a former chief executive of both Debenhams and Jaeger, as head of style. In May, the company unveiled a new clothing collection and strategy.
Analysts say a lot depends on this year's autumn and winter collection, which goes on sale later this month and has received good reviews from the fashion press.
"Clothing is the bedrock of the business, particularly womenswear," Bryan Roberts, retail analyst at Kantar retail told the BBC's Today programme. "Without it, the business will struggle.
"It's one thing to impress fashion journalists and City types, but another thing to impress young families and grandparents, the broader audience that M&S is trying to appeal to.
"If it comes to Christmas and clothing still hasn't recovered, the knives might come out for Mr Bolland."
'Sea of merchandise'
However, Neil Saunders from the retail consultancy Conlumino suggested it was not the actual clothes that were the problem, it was the layout of the stores.
"The big issue for M&S is... within the store environment, collections lose their creative integrity and become subsumed by a sea of merchandise," he said.
"This is exacerbated by a lacklustre shop fit and point-of-sale material, which is positively off-putting for many younger and young-at-heart consumers who may otherwise be interested in the items on offer."
However, he added that he was encouraged by the "extremely robust" sales in food.
Overall, total group sales rose 3.3% in the 13 weeks to 29 June - helped by a near-30% increase in online sales and an 8.7% rise in international sales.
Mr Saunders said that this "reflects the considerable investments made across these areas of business". He maintained his view that "there will be further sales progress on both of these fronts across the remainder of this financial year and beyond".
The problems in the eurozone affected sales in some areas, but M&S said its performance in this region had started to stabilise.
It added that, given challenging trading conditions, it remained cautious about the outlook.