China's Ping An Insurance to buy Lloyd's building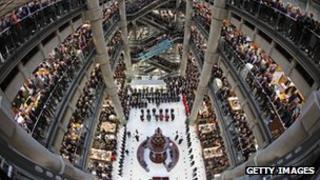 China's Ping An Insurance Group has agreed to buy the Lloyd's building in London for £260m ($388m).
The building, a landmark property in London and home to the world's leading insurance market, was owned by German asset management fund Commerz Real.
Chinese firms have been looking to buy assets in key markets in their quest to expand their presence globally.
Earlier this year, Dalian Wanda Group, a Chinese property developer, announced a £1bn investment in the UK.
Jon Crossfield, a director with Savills which advised on the Lloyd's of London building deal, said that it was "a potentially landmark transaction, given it is the first by a Chinese Insurance company overseas".
"It is a high profile and confident entry to the market for them and further illustrates the dominance of overseas investors in London at present."
Though Savills did not name the buyer in its statement, various reports, including that from China's state-owned Xinhua news agency said that it was Ping An Insurance.
'Ideal time'
The Lloyd's building is known for its innovative design, which includes the placement of features such as lifts and service pipes on the exterior of the building, giving it a futuristic look.
It was designed by renowned architect Richard Rogers and opened in 1986.
Commerz Real, which had bought building in 2005 for $231m said the "current liquidity and investor demand within the London market presented an ideal time for us to seek an exit in line with our original business plan".
"We are delighted with the transaction and it has been a major success for our investors," said Roland Holschuh, a member of the management board of Commerz Real.
Chinese companies have announced two other huge investments in the London real estate market this year.
In May, Chinese developer Advanced Business Park (ABP) signed an agreement worth £1bn to transform the Royal Albert Dock in east London into a business port.
Last month, Dalian Wanda Group said it will invest £700m to develop a five-star hotel in London - the first such development to be operated by a Chinese firm overseas.
Wanda also agreed to pay £320m for almost 92% of Sunseeker International, famous for providing yachts for James Bond movies.