Bank of Ireland tracker gripes 'down to ombudsman'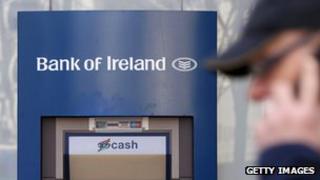 Customers angry with changes made to their mortgage rate by the Bank of Ireland (BOI) must wait for an ombudsman to rule on their complaints.
Some 13,500 homeowners who took out tracker mortgages from 2003 with the BOI and Bristol and West have seen repayments rise.
In a letter to the Treasury Select Committee, the City regulator said it was concerned about the change.
But it said it had little jurisdiction to act against the bank.
'Permitted'
Customers who took out tracker mortgages - in some cases, they were called "lifetime trackers" - were told they would track the Bank of England base rate, plus a margin of, for example, 0.85%.
Many were under the impression that the margin would stay the same, and hence the cost of their mortgages would rise only if the underlying base rate were to rise.
The base rate has remained at a record low of 0.5% for the past four years.
So some borrowers are furious that typical repayment rates rose from 1.35% (0.5% base, plus 0.85% margin) to 2.99% from 1 May.
Many residential customers will then face a further rise in October, to 3.99%.
However, the Bank of Ireland insisted that if customers had read the small print on their contracts, they would have known that the bank had the option to increase its margin over base rate.
It said the increase was "permitted by a specific clause in these mortgage contracts".
Other banks
The rate rise prompted questions from Andrew Tyrie, who chairs the Treasury Select Committee. He wrote to the Financial Conduct Authority (FCA) about the issue.
In its latest letter of reply, the FCA confirmed that it had no power to carry out an investigation as the mortgages were not regulated before October 2004, when they were sold.
However, the FCA said that it was not aware of any other banks which had similar clauses allowing such an increase to occur in this way.
More than 200 BOI cases are now with the Financial Ombudsman, which will rule on these complaints in the coming months.