German exports in sharpest fall since 2009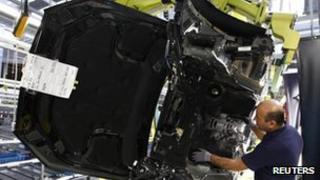 German exports saw their sharpest fall since 2009 as demand in China eased off and eurozone exports fell by 9.6%.
Germany exports around 40% of its goods to the 16 other countries that use the euro, many of which are in recession.
Overall exports, according the Federal Statistics Office, were 2.4% lower in May, while imports rose by 1.7% as domestic demand remained steady.
Exports to countries outside of Europe fell by 1.6%, with the slowdown in China affecting demand.
Carsten Brzeski, senior economist at ING, said the figures showed Germany struggling: "German exports dropped sharply in May, illustrating that the economy still has difficulties to shift into a higher gear."
The German economy was robust in the early years of the euro crisis but has slowed down sharply in recent months, even shrinking in the last months of 2012 before recovering to show a modest expansion in the first quarter of this year.
Germany's economy shrank by 0.7% in the final quarter of 2012, and grew just 0.1% in the first quarter of 2013.
The eurozone as a whole - comprising the 17 European countries which adopted the euro currency - contracted in the first quarter of 2013, its sixth consecutive quarterly fall,