HTC shares at seven and a half year low as profit slumps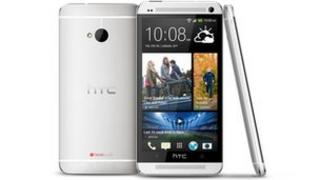 Shares of Taiwanese mobile phone maker HTC have plunged to a seven-and-a-half year low, as its profit continues to slide amid increased competition.
The firm's shares fell 7% on Monday to $189 Taiwanese dollars. On Friday, it reported an 83% drop in profit for the second quarter from a year earlier.
Net profit stood at NT$1.25bn ($42m; £27m) for the April to June period.
Although the figure was an improvement on the previous quarter, it fell short of analyst and investor expectations.
The firm, which was an early leader in the Android smartphone sector, has lost its market share to rivals such as Samsung and Apple in recent years.
In an attempt to regain some of that share it has launched new phone models in recent months, including the HTC One.
Analysts said that while those devices had helped in boosting profits in the three months to the end of June, the firm may find it hard to fend off competition in the long term.
"HTC may have new products in the third quarter, but competition from Apple and other Chinese brands is fierce," Taipei-based analyst Peter Liao of Nomura Securities said after the firm released its earnings.
"It'll be hard to keep the growth."
However, HTC is not the only firm that has posted weaker-than-expected earnings.
On Friday, profit estimates issued by Samsung - the world's biggest mobile phone maker - also missed analysts' expectations.
That had triggered concerns that that rate of growth the South Korean firm has enjoyed in the smartphone sector, one of the biggest contributors to its overall profits in recent years, may be slowing.