Siemens withdraws from Crossrail bid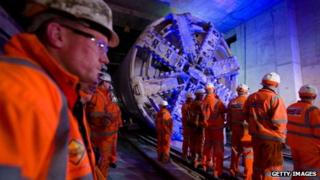 Siemens has pulled out of a bid to supply 600 railway carriages for the multi-billion pound Crossrail project.
The German company said it would still deliver signalling and control systems for the scheme.
Three bidders now remain; Canada's Bombardier, which owns the UK's last remaining rail factory, Spain's CAF and Japanese company Hitachi.
Crossrail will link Heathrow in west London to the east of the city through huge new tunnels.
A decision on the successful bid is expected by mid-2014.
The contract to supply trains for the new line is worth around £1bn. It is the largest infrastructure project in Europe.
"This is a strategic decision that has been taken based on current business activity levels. Crossrail is a very large project and, since first undertaking our initial assessment of capacity and deliverability, Siemens has won multiple additional orders," the company said in a statement.
"To pursue another project of this scale could impact our ability to deliver our current customer commitments."
Siemens recently beat Bombardier to a £1.6bn contract to build 1,140 new carriages for use on the Thameslink rail line, which runs through London and connects Bedford with Brighton.
That had put Bombardier's rail factory, based in Derby, under threat.
Responding to the announcement, Bob Crow, general secretary of rail union RMT said: "This is basically Siemens running up the white flag and admitting that if the dice aren't well and truly loaded in their favour, then they aren't interested."
"There is now no excuse for the Crossrail fleet not to be built in Britain, guaranteeing the future of train building in the nation that gave the railways to the world."